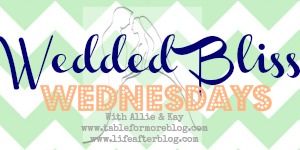 Welcome to another edition of Wedded Bliss Wednesdays! Be sure to go check out the two
awesome
bloggers
who host this link up each week!
This week, the questions were written for the guys to answer. However, I can't resist adding my own commentary which will be in
orange.
Without further ado, here are my husband's answers:
What was the first thing you noticed about your wife?
We met online, so the first thing I noticed online was that she loved ice cream. In person, I noticed that she had on a professional outfit. From this I learned that she had a job, and dressed appropriately for it.
I'm trying not to take it personally that he noticed I dressed professionally and not my killer good looks (cough).
When you first started dating your wife, what kept you calling/asking her out?
Good personality. Had a lot of fun talking to her, and she was willing to listen to me ramble on.
LMAO. Was I the first woman who was willing to listen to him ramble!?
What is your wife's best quality?
She is very caring. My wife cares deeply about everything. While it can sometimes be a bit much to handle on small details, I love that she takes a stand and is willing to stand for what she believes.
Well said, hubby, well said.
What is your favorite thing to do with your wife (ahem, keep it clean!)?
Travel. I think that traveling brings out the absolute best in the both of us, and we always have a really good time.
Agreed! We make such good travel partners!
What are you most excited for for the future with your wife?
Having children. I can tell that she is going to be a great mother, and I am excited to see this come to fruition.
Excuse me while I clean up, since I just melted all over the floor.
How do you make your wife feel loved?
Taking care of things around the house. Her love language is touch, so I ensure that I give her lots of affectionate touches.
I love that he remembers my love language. Although, since a hug can totally change my mood, he probably remembers it out of self preservation :P.
Me and the hubs at our rehearsal dinner.